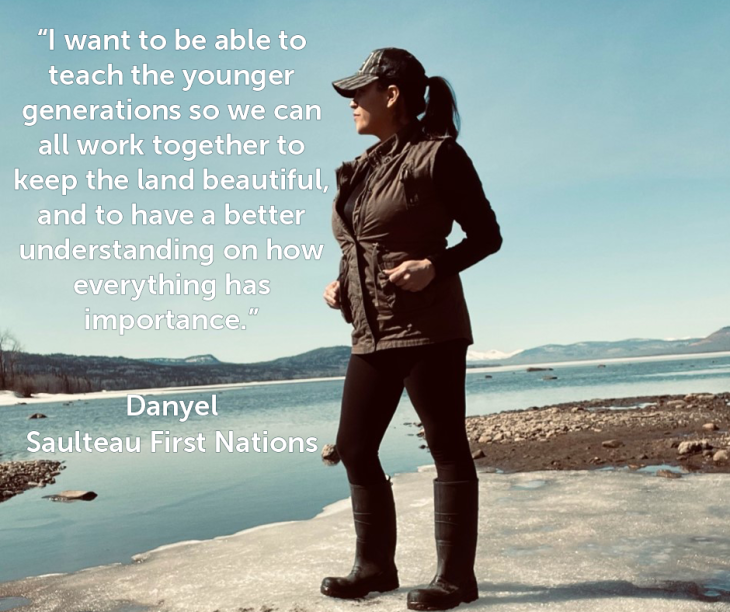 A leading-edge Environmental Monitoring Technician training program is providing skills training to B.C. Indigenous students for sustainable jobs in environmental stewardship.
Using Stronger BC skills training funding provided by the Ministry of Advanced Education and Skills Training, the BC Energy Regulator (BCER) was able to partner with Indigenous communities to develop a fully-funded environmental training program. Registration was open to Indigenous students across B.C. as the program was specifically designed for remote learning to help students earn certifications, while staying safe and close to home.
"Restoration of former oil and gas sites is a priority for the BCER and we're seeing a dramatic increase of the number of wells plugged and decommissioned," says Sara Dickinson, Vice President, Strategic Engagement. "To fully restore the land, we need the traditional knowledge, skills and support of Indigenous people. This training program ensures that expertise is maintained in the restoration economy."
The environmental training course content was designed based on input from Indigenous Nations, on the type of learning and skills required, appropriate length of program, and important cultural supports.
This initiative is part of the BCER's Indigenous Education Program (IEP), a partnership, started in 2017, with several post-secondary institutions across the province, to create scholarships and training program opportunities for Indigenous peoples. It is just one step the BCER is taking to promote a holistic Indigenous presence throughout the oil and gas regulatory cycle and support B.C.'s implementation of the United Nations Declaration on the Rights of Indigenous Peoples (UNDRIP).
The fully-subscribed Environmental Monitoring Technician Training program was provided by the Natural Resource Training Group. The class ran from March 15 to April 23, 2021 with a combination of online learning and student-led field activities. Students acquired skills in a number of areas, including:
Environmental monitoring.
Wildlife, bird, and amphibian surveys.
Fish and fish habitat inventories.
Assessment and restoration.
Vegetation and soil surveys.
Erosion and sediment control.
Technical writing and reporting.
Students Danyel from Saulteau First Nations, and Darcy from West Moberly First Nations, participated in the six-week training. Both were encouraged to apply because of their love of being out on the land and desire to retain knowledge and maintain it. "This training has been so informative, every single day. I've learned something new and of value that I will implement into my daily life on the land and carry with me forever," said Danyel. "I want to be able to teach the younger generations so we can all work together to keep the land beautiful, and to have a better understanding on how everything has importance."
Darcy, who currently works at DWB Consulting, a company jointly owned by West Moberly First Nations, explains what he too hopes to gain from the course. "I find the diversity in the many fields of environmental monitoring from wildlife surveys, bird surveys, to construction monitoring, very valuable for all First Nations. Working to increase First Nations employment, training, and knowledge within the environmental field. Everything from environmental inspection on pipelines, to construction monitoring for pipelines, as well as other industries like hydro and mines."
Students who participated in the program had their tuition fully funded, which helps students like Danyel and Darcy reach their goals. "The funding helped in many ways, from being able to pay my bills, buy healthy snacks for brain food, but to also pay for childcare when I needed to do the outdoor projects," said Danyel. "I want to find work in either seed reclamation or becoming a wildlife monitor."
Best wishes to Danyel and Darcey, and the other 19 students, in their future endeavors!